Chat conversations
You can start a chat conversation with anyone in your account or organization from the chat tab in the left navigation bar.
Starting a direct chat
Scroll down to the Chat tab, and click the Start chat button (+) to start a direct chat. Enter the name or email of the member with whom you want to start a conversation, and then start typing the message.
You can also search to look up a member and start a direct chat.
In the Search box, type the name of the member with whom you want to start a chat conversation. From the search results displayed, select a member, and then start typing your message to start a direct chat.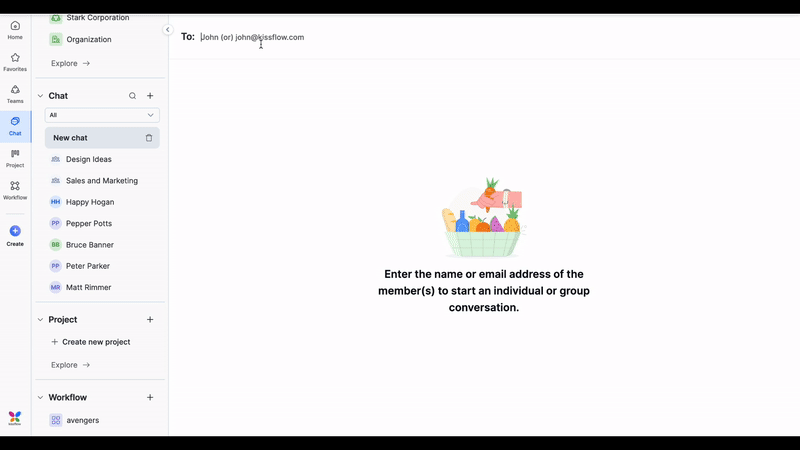 Starting a group chat
You can also start a chat conversation with multiple members using a group chat.
To start a group conversation, start by adding members you want to add to a group. Click the Start chat button (+) and keep adding members to the group. You should add a minimum of three members to start a group chat. After you have added the required members, enter a name for the group, and then click Start a group chat.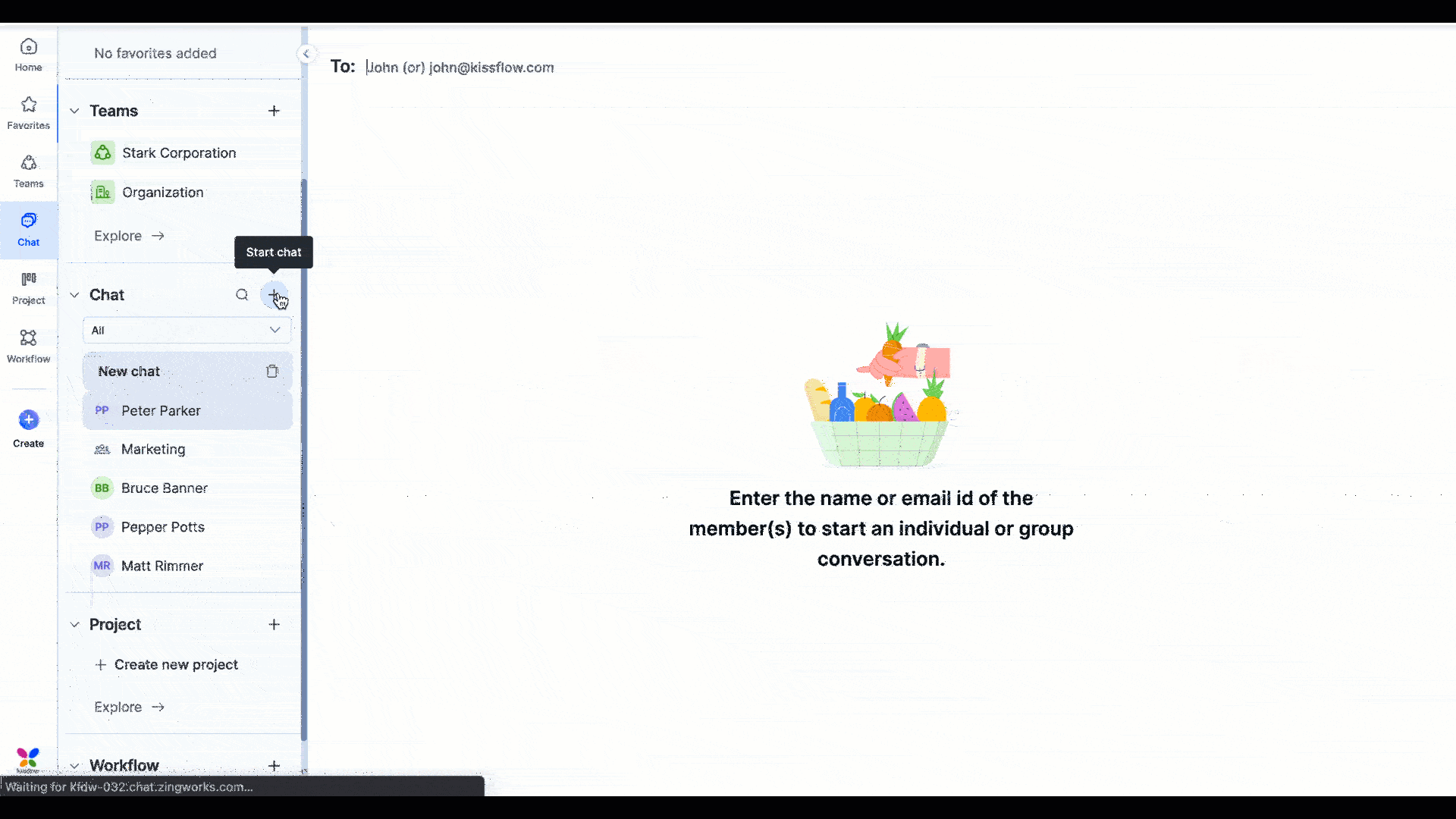 To rename an existing group, follow these steps:
Click your group's name.
The group chat details appear on the right side of your screen.
Click Edit and enter the new name. Click Done.
Adding images and files in chat conversations
To add images and files in a chat conversation, click the Attachment button (

) and attach the file or image from either your local files, Google Drive, Box, Dropbox, or OneDrive. You can also copy and paste images from other sources directly into the message window.
Attachments can be in any commonly used file format, such as JPG, JPEG, JPE, PNG, GIF, PDF, DOC, PPT, MP4, XLSX, CSV, and MP3.
The size limit per file cannot exceed more than 25 MB.
Emojis and GIFs
To add an emoji or GIF to a message, click the Emoji button (
) to search and insert from a wide range of emojis or GIFs.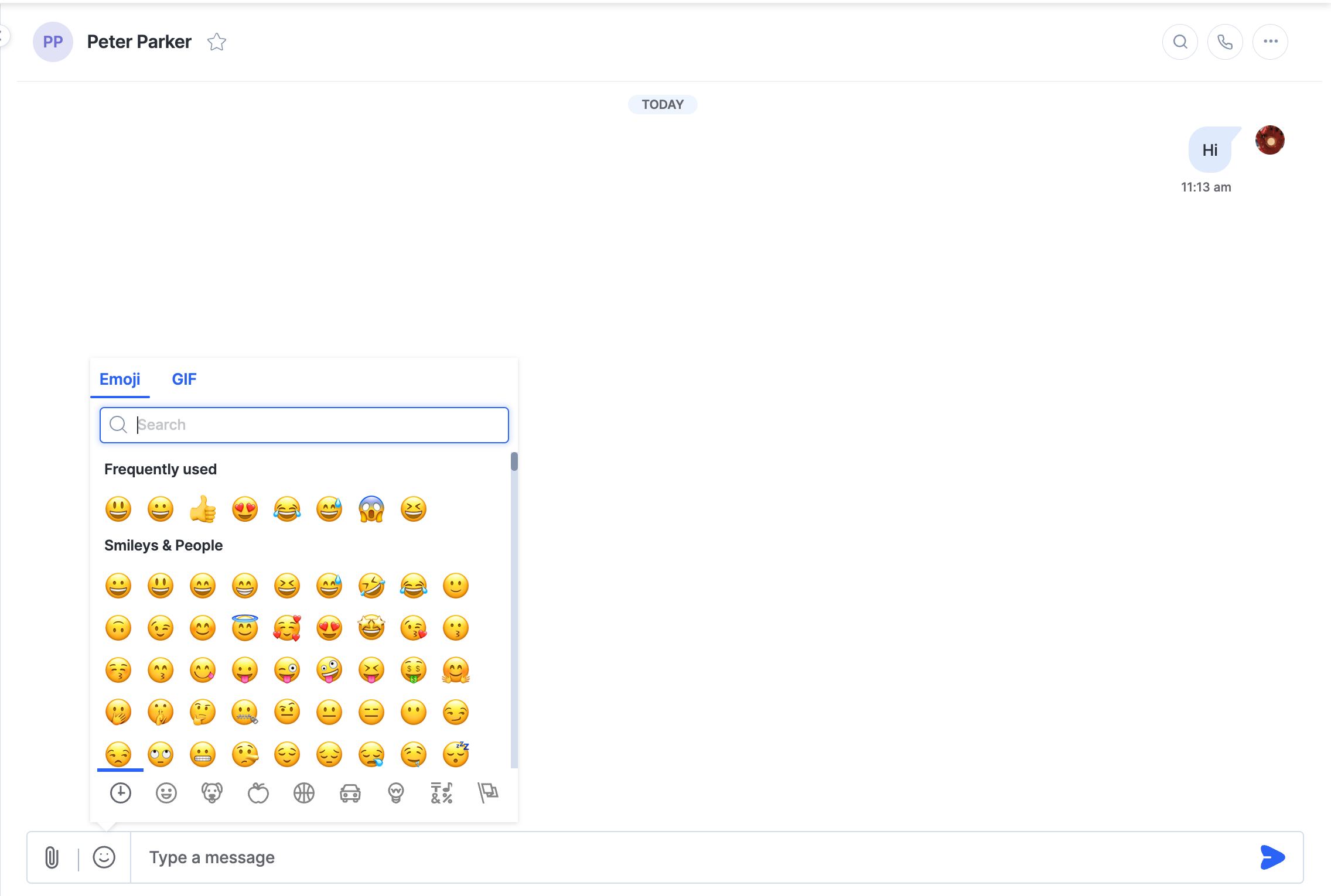 You can also individually react to a specific message. Hover over the Reactions button (

) beside your message. 
You will be shown the following five static emojis as primary reactions:
Like
Red heart
Clap
Laugh
Astonished
Additionally, you'll have an Add button (
) to open the emoji tray. You can choose an emoji of your choice from the emoji tray.
When you select a new emoji from the emoji tray, the new emoji will then be shown as a new reaction after the five static emojis. Click this emoji once more to remove it from the primary reactions list.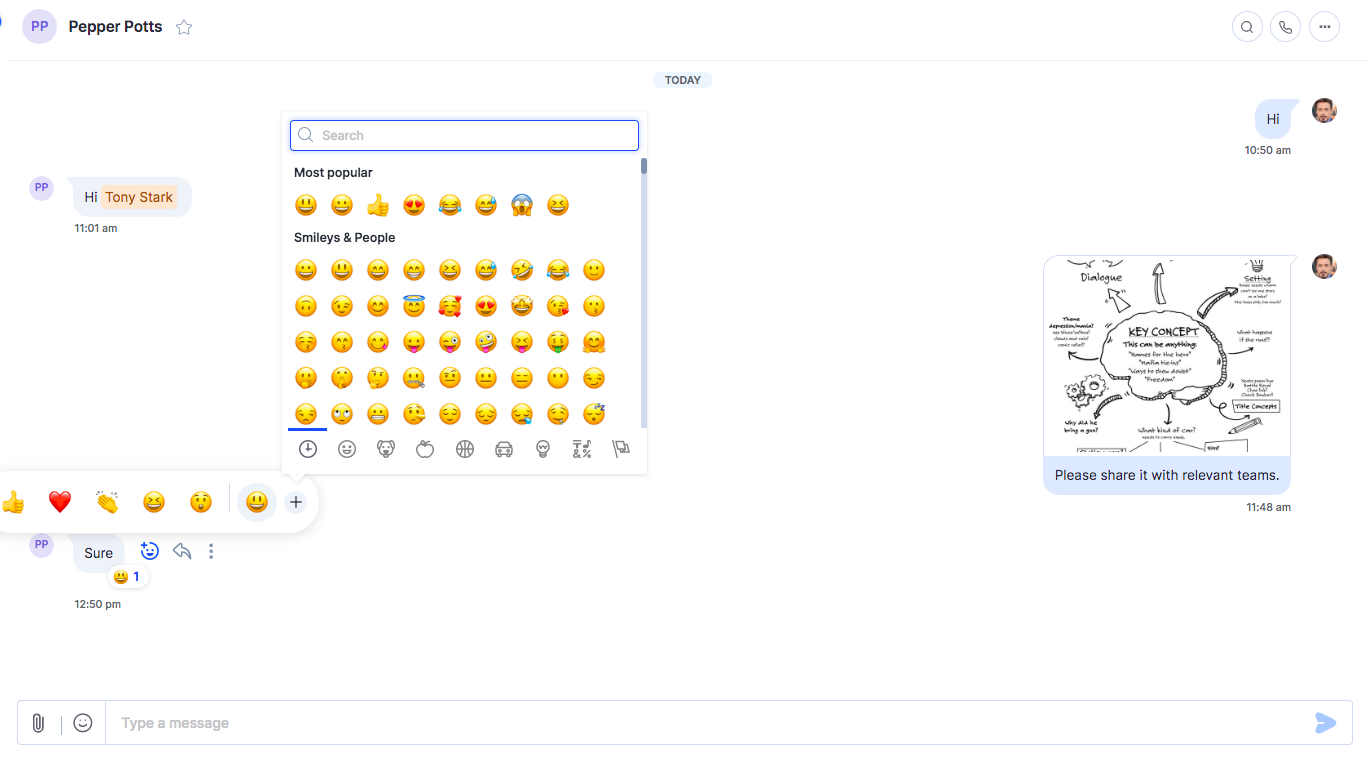 Favorite conversations
You can move your direct or group chat discussions to your favorites list to make them easier to find later. Click the Add to favorites button (

) beside a chat to mark that conversation as a favorite.
You can always remove conversations from your favorites list that no longer need your immediate attention. To remove a conversation from your favorite list, click the Remove from favorites button (

) beside a conversation.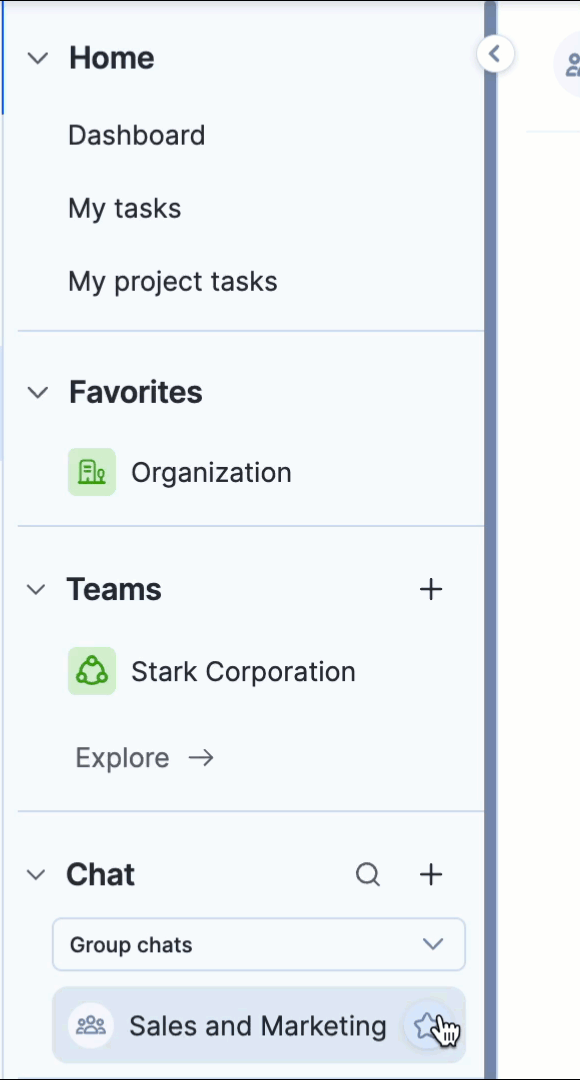 Audio player
The audio player feature in chat lets you preview and play audio files. You can also speed up or slow down the file while playing it. This helps you save time by not having to download files every time and helps you keep your work inside Kissflow and not rely on external audio players, which improves governance and reduces privacy and data security concerns. 
You can download the file by clicking the Download button below the audio and preview the file by clicking the file name.
Kissflow chat currently supports MP3, WAV, and OGG files up to 60 minutes in length and less than 30 MB in size. 

Mute notifications
If you don't want to receive notifications about updates from conversations, you can mute them. To mute notifications, click the More options button (
) on the top-right corner of your conversation window, and then click Mute notifications. You can unmute notifications later.
Mentions
You can @mention other members in direct and group chats. Type the name with the prefix "@", then select them from the menu that appears. Members are not notified when they are mentioned in a conversation they are not part of. However, you can add new members to a group when they are mentioned in a group chat.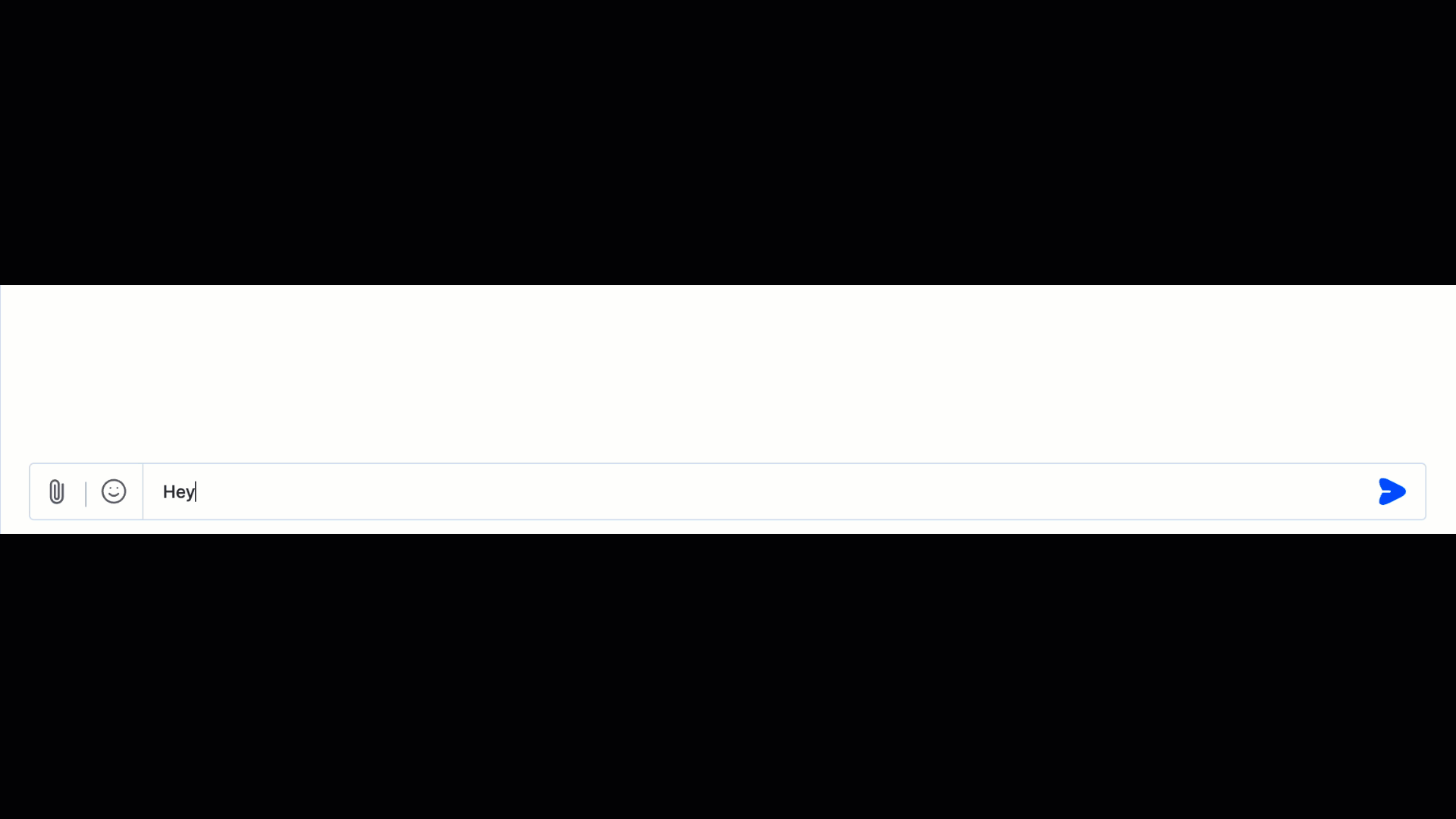 Forwarding messages
You can forward text, images, files, links, and integration bot messages to other direct chats, chat groups and team chats. However, any system message cards or Google Meet cards cannot be forwarded. Similarly, you cannot forward messages to or from an archived chat group.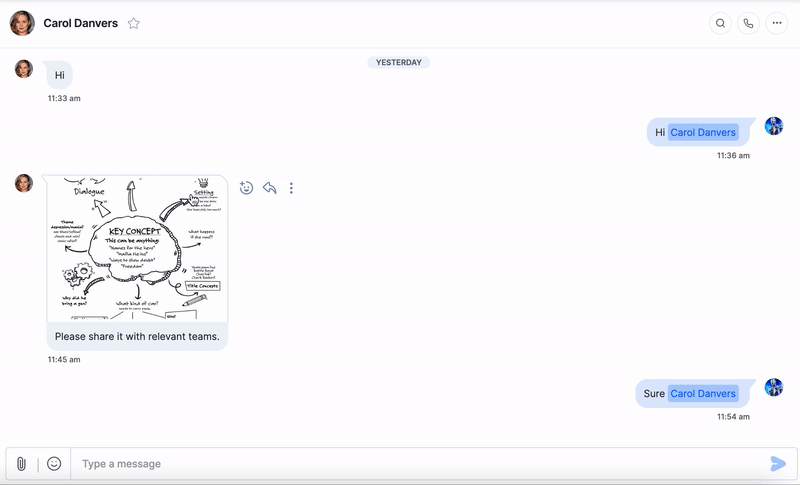 The number of times that you can forward a single chat message through a chain of chats is undefined.
To forward a chat message
Access the chat hub and open a direct chat or group chat.
Hover inside of the message bubble and click the More options button ().
In the dropdown, select Forward button ().
In the popup window, select chats by clicking the Checkbox ().

You can forward up to 10 messages to five chats at the same time.

The original sender details are forwarded along with the message by default. You can choose not to forward this information along with the forwarded message by disabling the checkbox.
Click Send.
Forwarded messages will be indicated with a Forwarded label (

). The original sender's information is presented based on your preferences. It should be noted that while a forwarded message cannot be altered, it can be deleted.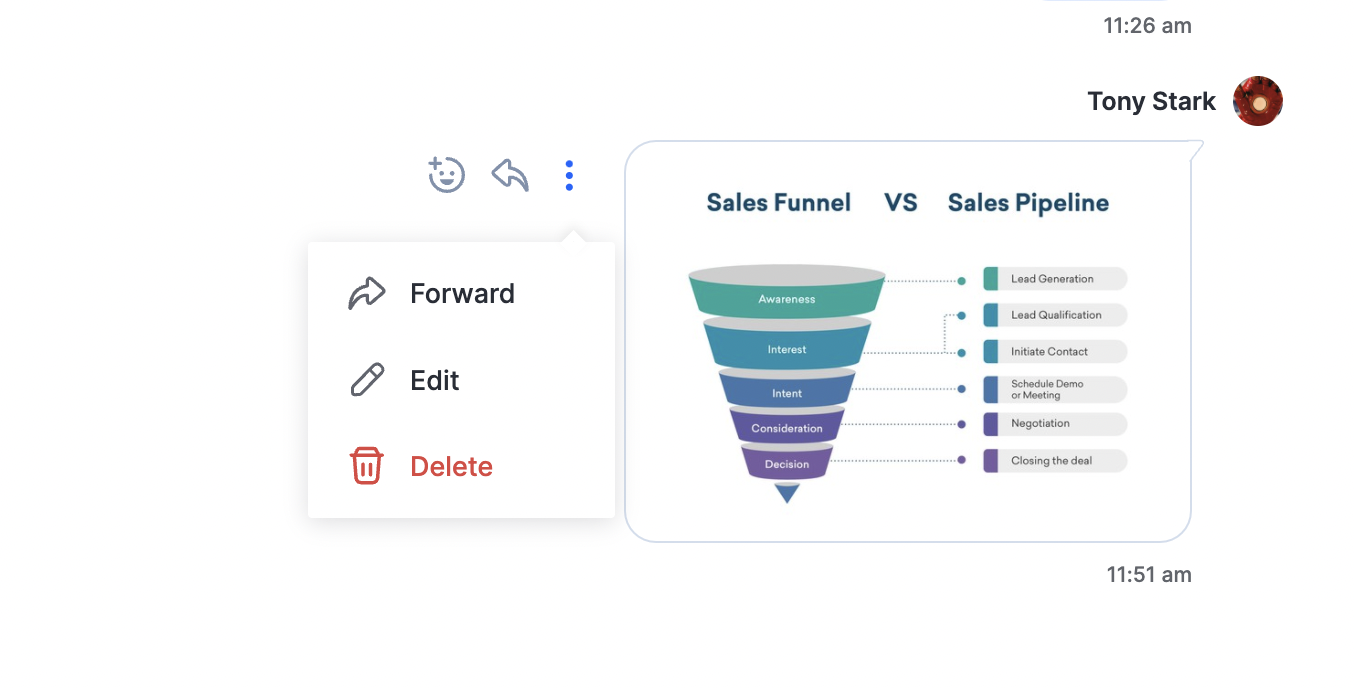 Drafts
Unsent messages continue to remain as drafts in the message window. You can switch between chat conversations while returning to the draft to make changes before sending the message.
Editing messages
Even after you've sent a message, you can edit it.
Click the More options button (
) beside the message you want to edit and click Edit. After modifying your original message, click Update.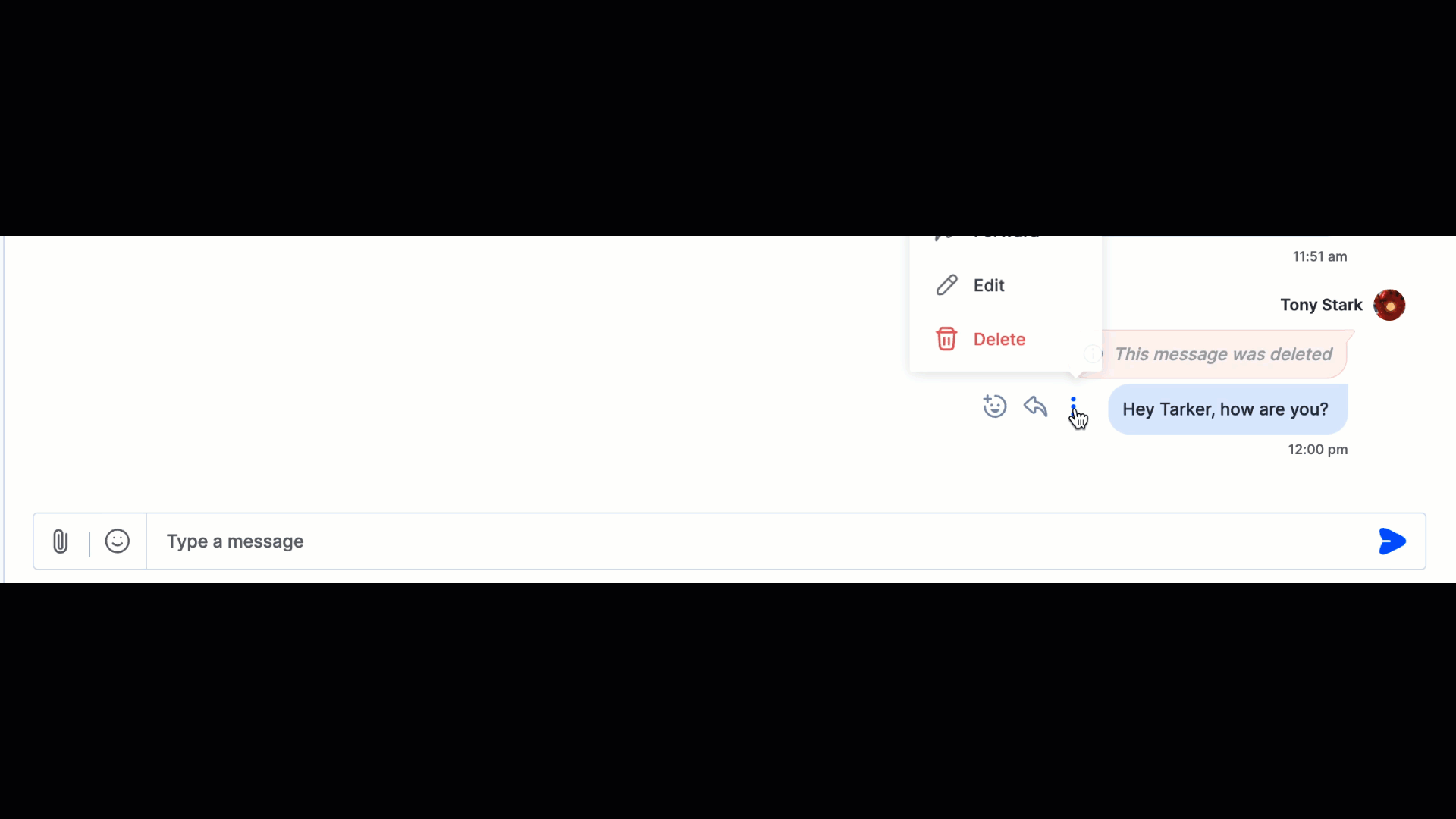 Deleting messages
You can delete messages from conversations. Deletion is irreversible, and you will not be able to restore a deleted conversation. Also, you cannot delete messages in bulk.
Click the More options button (
) beside the message you want to delete, then click Delete.
You can only delete one message at a time.