Admin actions in a process
As the Admin of a process, you will be able to reassign items, mark them complete, or delete them as necessary. To perform these actions, navigate to your process and click More options
> Administration. You will see a list of all the items in your process.

You can perform these actions in bulk for a maximum of 100 items only at a time.
Reassigning items
Select an item or a set of items you would like to reassign and click Reassign.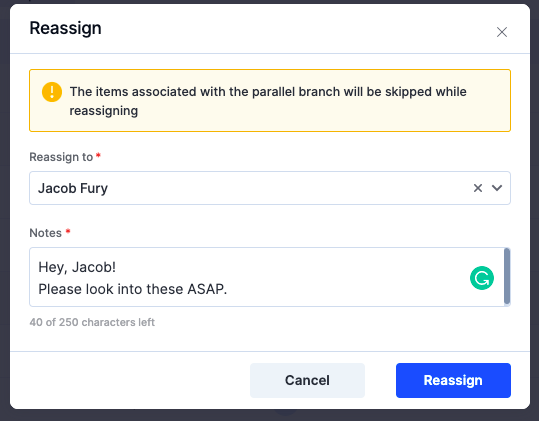 Please note when you reassign an item that has more than one assignee, the previous assignment will be invalidated and the new assignment only will take precedence. 
For example, let us assume John and Linda are assigned to an item to which you are also assigned and you choose to reassign it to Abraham. What do you think would happen to the other assignees of the item now?
After the reassignment, Abraham will be the only assignee of the item and the other assignees will be removed automatically. i.e.John and Linda will not continue to own the item anymore. Learn how reassigning works for a Process Member here.
Also, the items that have already been completed, rejected, or withdrawn will also be skipped or not considered for reassignment. i.e, The items in their 'In progress' status only will be reassigned and the items skipped will be prefixed by a yellow exclamation mark for your understanding.
The items with parallel branch association will be skipped and not reassigned.
Marking items as completed
Select an item or a set of items and click Mark as completed. When a task is marked complete, it is advanced to the end of the workflow.
Deleting items
Select an item or a set of items you would like to delete and click Delete. A deleted item cannot be recovered and the data associated with it will be lost.
---
---