Chat notifications and sounds
Small Business
Corporate
Enterprise
Chat notifications help you alert users about important messages or updates in chat. You have two types of notifications in Kissflow Chat: Buzz notifications and Soft notifications.
Buzz notifications
Buzz notifications are high-priority notifications that assist in delivering important messages or files. The user who receives the message will hear a sound notification highlighted in red.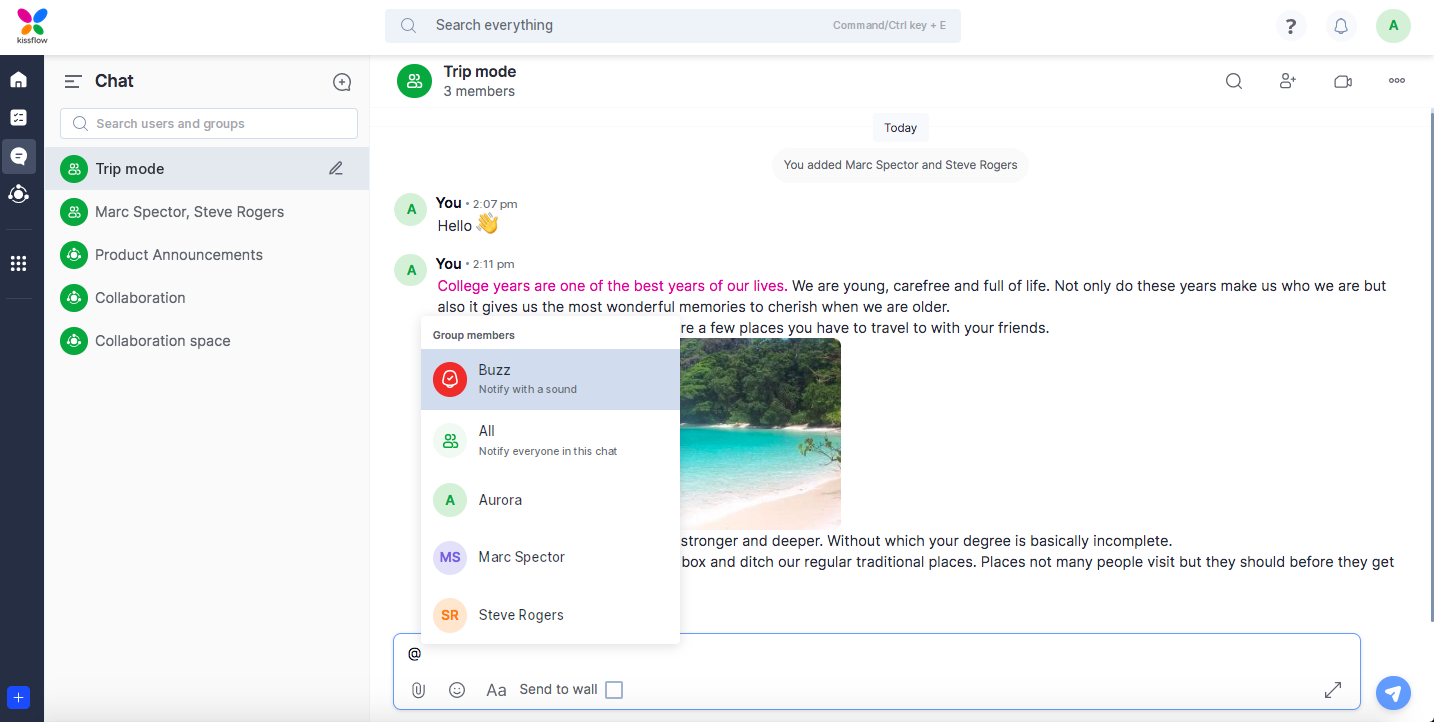 Sending a buzz notification
You can send a buzz notification along with your messages by inserting the keywords @Buzz and @mentioning the user to whom you want to send the notification.
Buzz notifications in a group
You can send a buzz notification to your group members. To do this, include @Buzz @All or @Buzz along with your message. You can tag selected members to be alerted if you wish to send a buzz notification to only those members inside the group. Members who have not been tagged for the buzz notification will only receive a normal message.
Similar to a normal message, you can add reactions, start a thread, forward a message, edit, copy, star, or delete a buzz message.
Searching a buzz message
You can find the buzz messages by searching @Buzz in the search bar (

) inside the chat.
Soft notifications
You can also send a soft notification to other users in your account. The soft notification is non-intrusive and alerts the receiver with a badge count. Soft notifications can be sent as normal messages in direct or group chats.
Sending any messages without the @Buzz keyword is considered a soft notification.
Buzz notification settings
You can also turn on or turn off sounds for incoming buzz message notifications. Use the Notification sounds toggle button to enable or disable buzz notifications for a chat.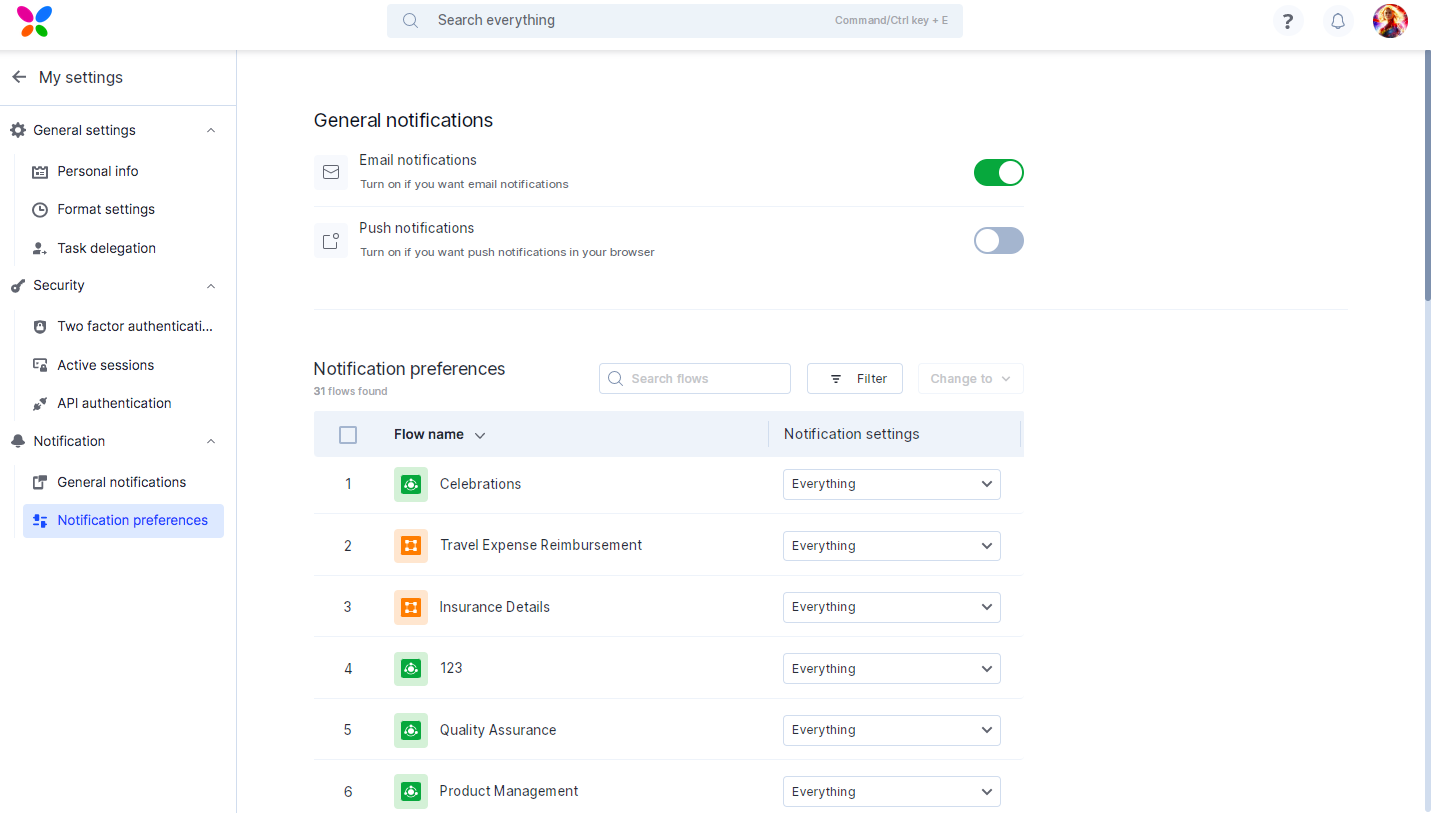 Managing group notification settings
You can manage notifications for direct or group chats. To access the settings, click the Notification settings icon (

) beside the Search icon(

). You can select All thread replies to get notified of all replies in a chat. Once you do so, you will follow all messages by default.
To enable notifications only for @ mentions and the threads participated, choose the second option. You cannot follow or unfollow a thread unless you are mentioned or have participated in it.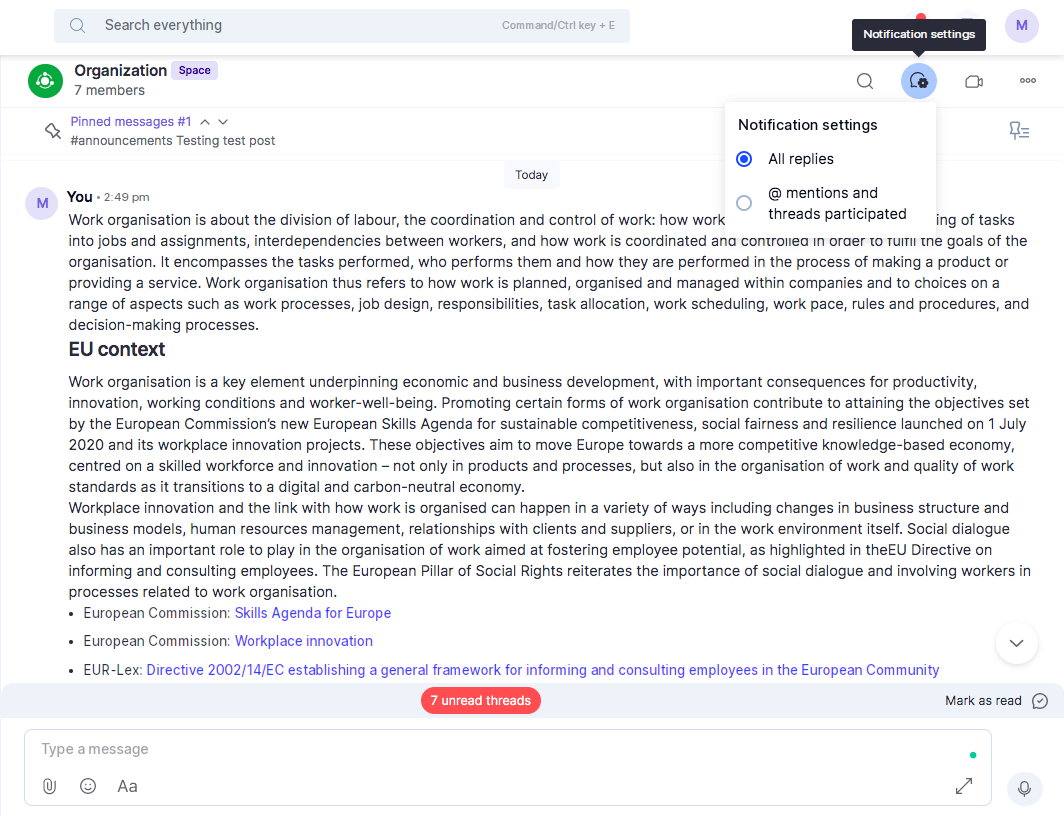 You will receive notifications for all the primary messages in chat.
Managing system notifications
Check that your browser permits Kissflow notifications to notify you of incoming messages in the chat. As an example, the steps to enable notifications and sounds from a macOS in a Chrome browser are provided below.
To enable notifications in macOS:
Click the Apple menu () on the top-left corner of the menu bar.
Choose System Preferences > Notifications.
Click the Google Chrome browser in the list of applications.
Ensure that the Play sound for notifications checkbox is ticked.
Click the Allow Notifications button to enable notifications.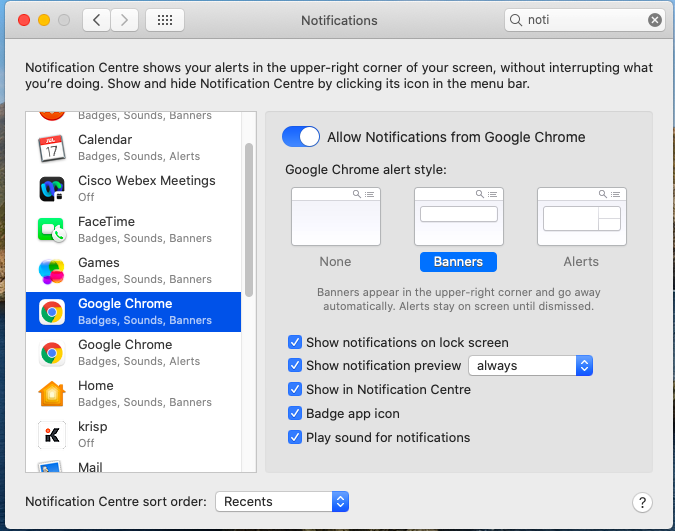 Managing browser notifications
You can also turn on or turn off your push notifications in popular web browsers like Chrome, Firefox, Safari, and Edge. Here's how you can enable notifications in the Chrome browser:
Click the Padlock icon () in the browser URL.
Choose Site settings.
Under Security and privacy in Permissions, reset the permissions to Allow Notifications and Sound.