Account settings
On the Account administration screen, Account Owners and Super Admins have access to the Account Settings tab. From here, you can view and customize your account and domain name, change the account logo, and connect other account domains.
Account details
Account name and domain
Your account name and account domain are automatically assigned based on the email domain used to sign up. You can change this domain any time as long as the new domain isn't taken by another organization.
If you change the domain address yourself, Kissflow will automatically redirect the old domain to the new one and all domain users will be locked out and notified. However, your former domain will become available to register by another organization. If it is claimed by someone else, your old domain will no longer redirect.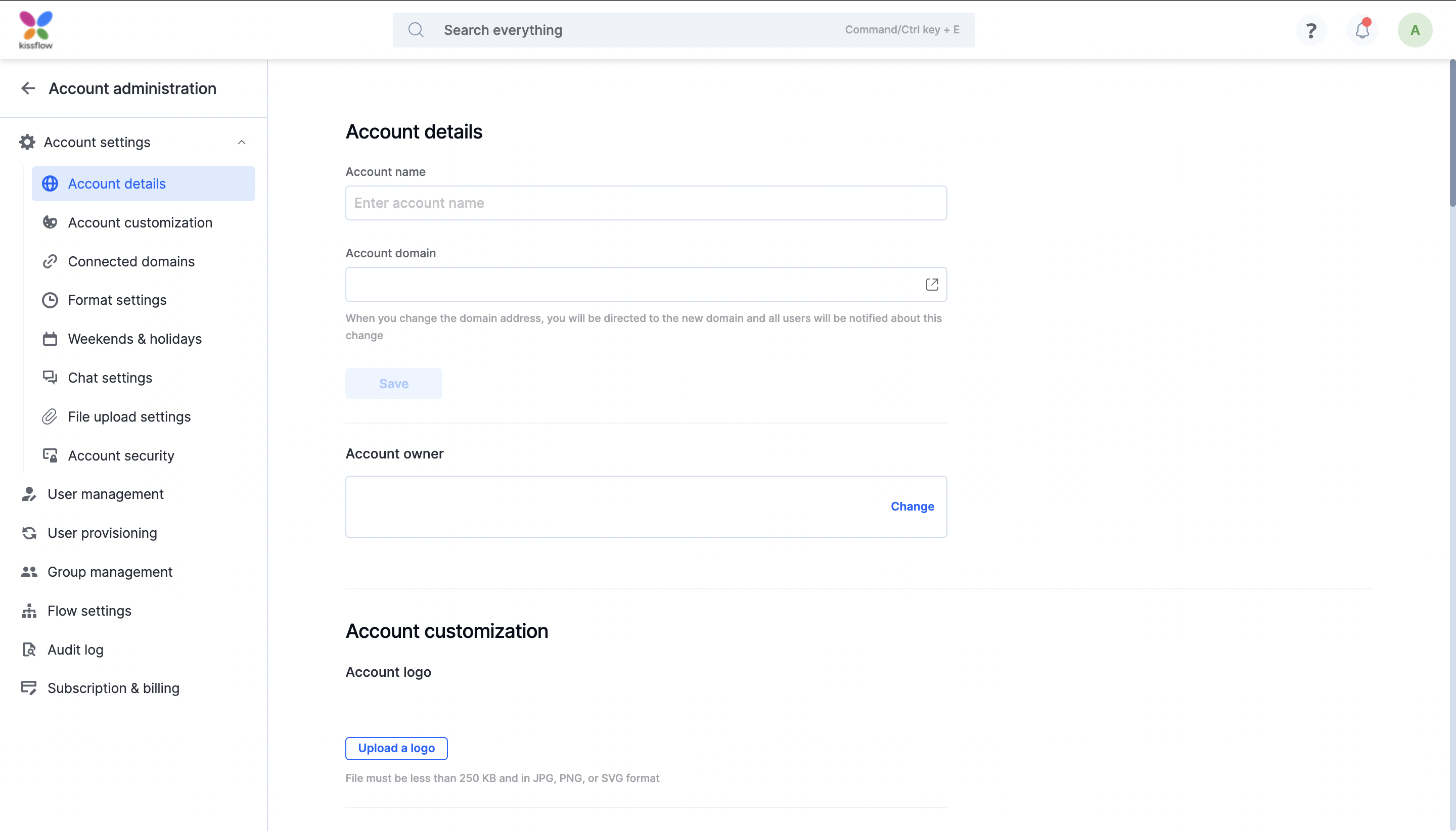 Account logo
Your account logo is auto-assigned based on the email domain used to sign up. It will appear on the top right corner of your account for all of your users and also on your sign-in screen and certain product emails. You can also change it to a customized logo. 
We recommend that you use a rectangular logo that is 240 X 36 pixels. The logo file must be less than 250 KB and in JPG, PNG, or SVG format.
Mobile app branding
You can also customize the branding for the Kissflow mobile app or PWA (Progressive Web App). Enter your own name of choice in the App name field. Use a custom logo for the mobile app by clicking the Replace icon button.
We recommend that you use a logo that is 512 X 512 pixels in resolution. The logo must be less than 500 KB in size and should be in PNG format.
Custom domain
Initiate a chat with our customer support team if you want to have a customized domain name that reads <your-domain>.kissflow.com
For example, if your company's name is Stark Corporation, your Kissflow domain can be renamed starkcorp.kissflow.com. 
Custom domain mapping is only supported for customers under the Enterprise plan.
Also, please ensure to get your domain customized again when you change your account domain because we will invalidate your custom domain mapping after you change your account domain.
Connecting domains
For an organization that has multiple email domains, Kissflow allows you to connect an email address from any of these domains to your account. Once an email domain is connected with your account, no one else will be allowed to sign up for a new Kissflow account using the same domain.
Let's say your organization's domain address is starkcorporation.co. If you want to connect a user from the same organization, but with a different email domain stark-usa.co, you can do so by adding the new domain. Click Connect a domain, and then enter the domain name, domain address, and the email used to verify the domain.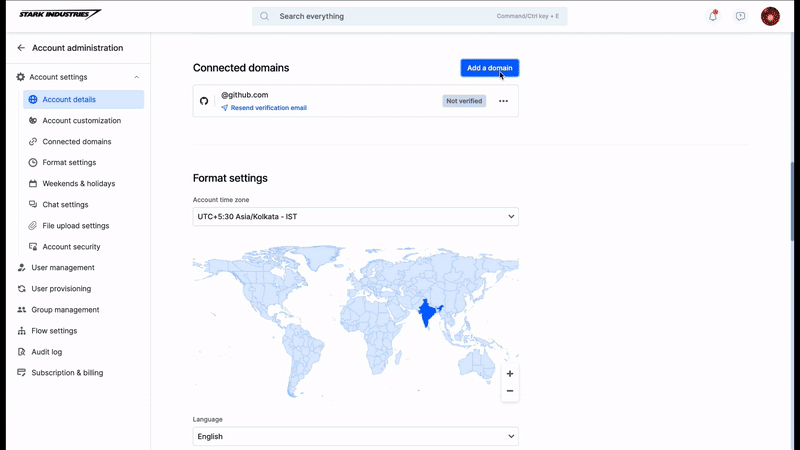 An invite email will be sent to the invitee's email inbox. Upon verification, the alternate domain will be connected to your account and no one else will be able to create a new Kissflow account with that domain. You can connect multiple domains with your Kissflow account. However, once connected, a domain cannot be associated with any other Kissflow account.
Account theme
You can apply your brand color to the header texts, links, and background in your account with the help of the Account customization settings.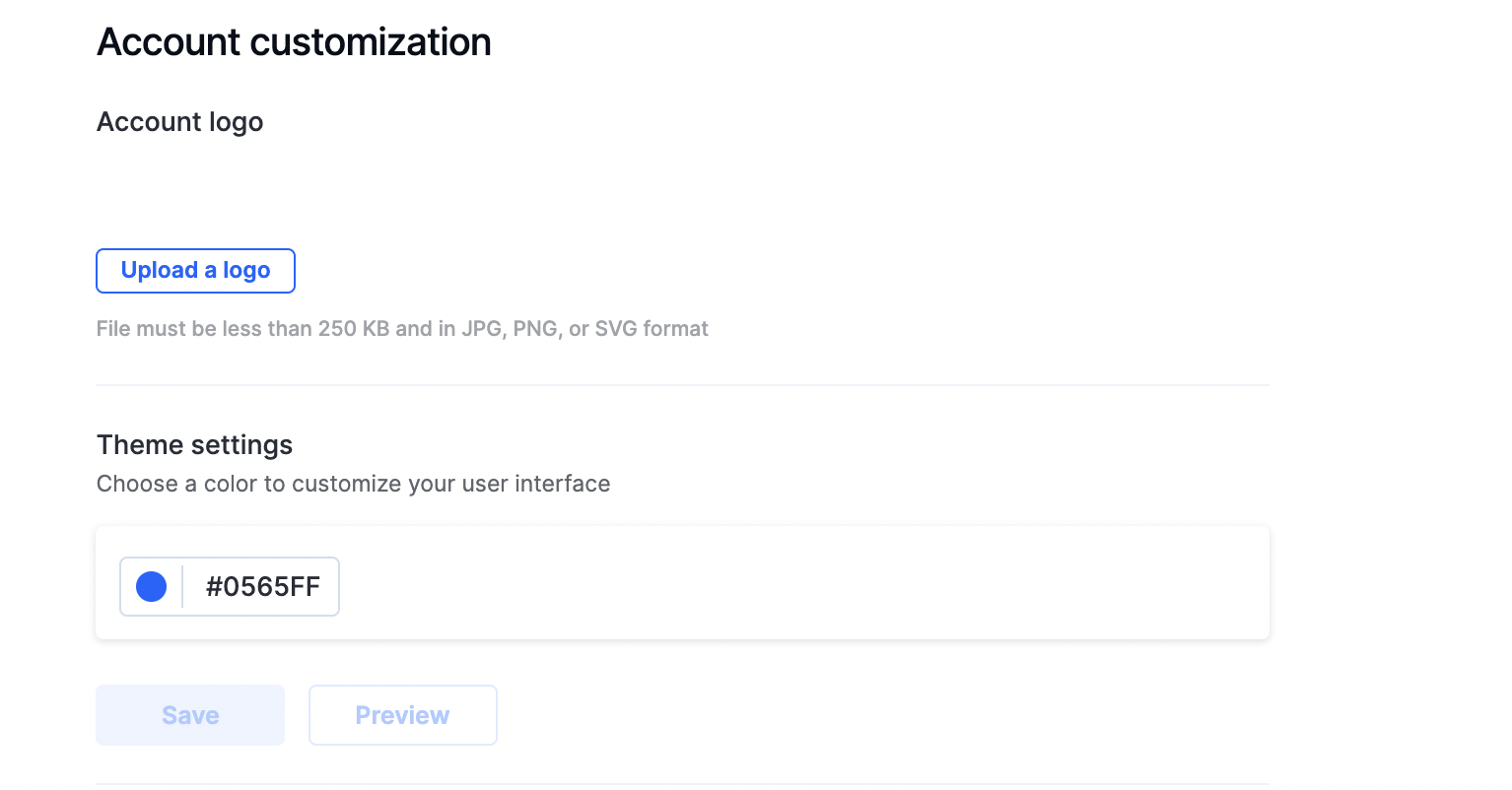 Click your profile picture > Account administration > Account settings > Account customization
Under Theme settings pick your brand color from the palette or enter its hex code as necessary.

You can also choose to apply a relevant color related to your brand color to the background if you wish to. Toggle the Apply relevant changes to the background field to Yes to update the background.

Click Preview to check whether the applied brand color matches your expectation and the readability of text on the screen is good.

You can also save the theme directly while previewing your preferred account theme by clicking Save to save the theme instantly or click Discard changes to revisit the section and modify your brand color as necessary.
If for some reason, you like the default color better, you can click Reset to default to reset the changes applied.
We recommend you preview the theme before saving your preference because lighter shades might affect the readability of text on the screen.