Getting started with Kissflow Chat
Small Business
Corporate
Enterprise
Kissflow Chat provides messaging capabilities for interacting with anyone in your organization. You can jot down notes and send them to yourself, send direct messages to other users, and use a group chat to connect with larger groups. You can create an instant, open, closed, or secret group based on your organization's privacy and accessibility requirements.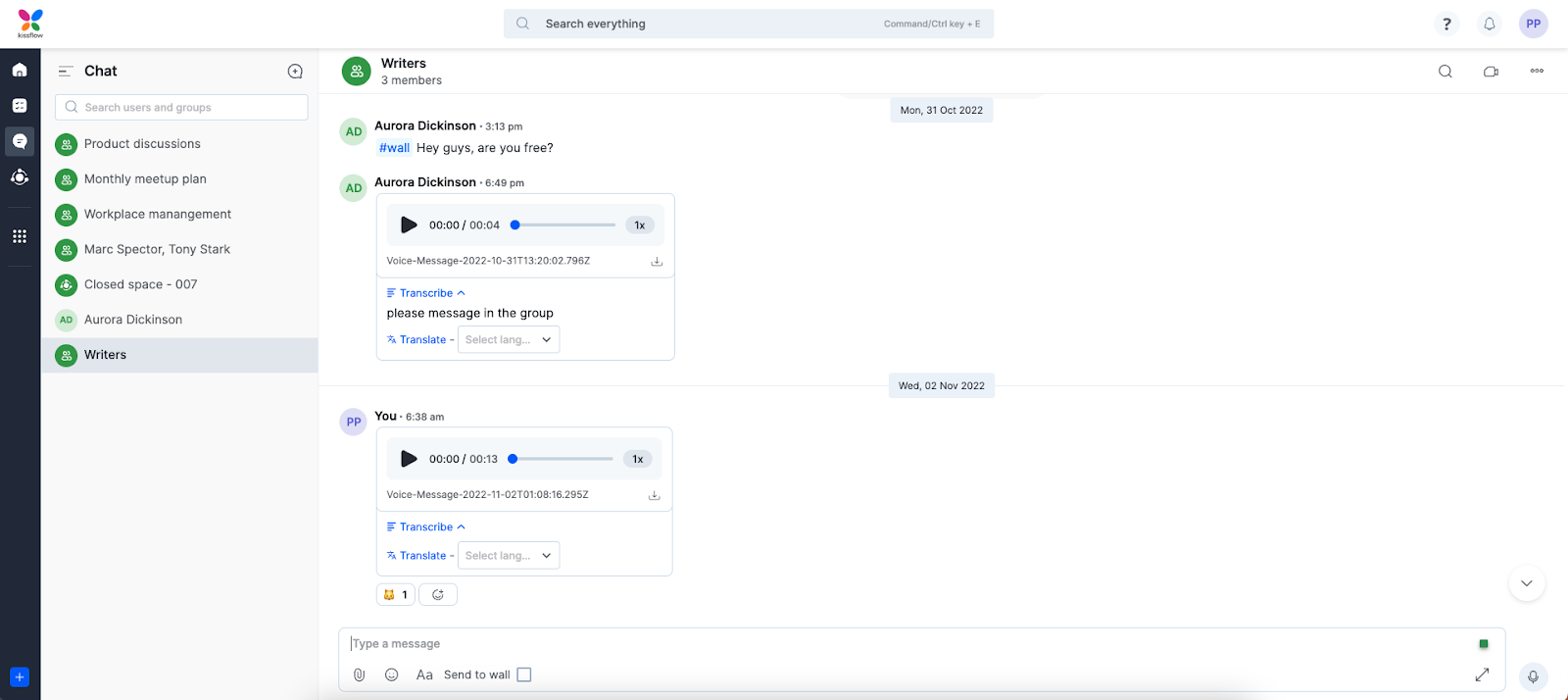 Here is a quick overview of all that you can do using Kissflow Chat:
Starting a direct chat
To initiate a direct chat:
Sign in to your Kissflow account.
Go to the Chat tab on the left navigation panel.
Click the Create a chat button (). In the To field, enter the name or email address of the user with whom you want to start a conversation, and then start typing the message in the message field below.
Click Send button () or press Enter to send the messages to the other user.
You can use the Record button () to record and send an audio message up to one minute in length or Start conferencing () using Google Meets.
You can search on the left panel to find users and resume a direct conversation from where you left off.
Chat with self
To make it easier to keep track of your thoughts and ideas, you can jot down notes and send them to yourself. You can also build a to-do list or organize your media and files. To chat with yourself:
Click the Create a chat button ().
In the To field, type your name or email and press Enter.
Now, you can start typing your notes, build a to-do list, or attach files and media in your message field.
Group chats
You can chat with multiple users using a group chat. There are four different types of groups. You can create Instant, Open, Closed, and Secret groups according to your privacy and accessibility preferences.
Instant group
Instant groups let you quickly create groups without providing a name or updating group type and other settings. If you want to have a quick conversation with users, you can choose to create this group.
Open group
Open groups are best for general interactions where users can join directly or request to join the conversation.
Closed group
Closed groups enable you to have secure chats with specific account members. It also allows for interaction with non-group members via a group wall. 
Group wall
By default, closed groups have a Group wall that serves as a means of interaction between your group and non-group members. It enables other groups to receive updates or clarify their queries with your group. Behind the wall, the original group members can continue their closed conversation.
Secret group
You can create a Secret group for private and confidential communication with selected members. It allows you to create an undiscoverable group that only its members can see. Non-members will be unable to discover this group by its name. 
Media, documents, and links
You can view all of the documents, media, and files you shared in the chat from a single location. You can also pin groups, chats, and star messages to make them easier to find.