Android devices
If you are using an Android device, you can use your browser to access your Kissflow account or a Progressive Web App to access it.
Using a mobile browser
Use your preferred mobile browser to navigate to the URL where your account is located. It will be <accountname>.kissflow.com.
Using a Progressive Web App (PWA)
A Progressive Web App gives a native app-like user experience and it functions just like a mobile app. It also consumes less data and does not require any updates. 
Minimum system requirements: 2GB RAM
New features are constantly being added to the PWA version of Kissflow, however, only a limited set of features are available at the moment.
Installing the Kissflow PWA
Open Chrome and type the account URL on the address bar (https://<domainname>.kissflow.com).
Tap Menu, then tap Add to Home screen and Add.
 Enabling push notifications 
Tap your profile picture in the upper-left corner.
Tap the More options icon.
Tap Notification settings.
Enable Push notifications. You have to toggle the option Blue to enable it.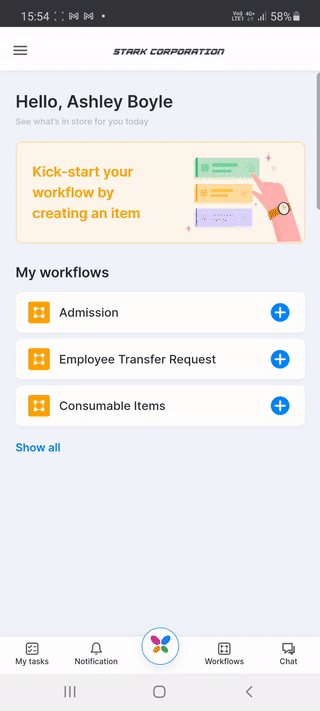 ---
---