Using spaces
Small Business
Corporate
Enterprise
You can use a space to chat with your team, discuss a specific topic in the forum, access shared files, documents, and media, and filter messages using streams.
Adding tabs inside space
As a space admin, you have the ability to add and remove tabs inside the space. To add a tab inside a space, 
Click Add a tab button ().
Select Chat, Files, Stream, or Forum to add as a tab based on your preference and settings.
Files will have three different sections to choose from: Media, docs, and links. Similarly, you can search and select hashtags to create different streams inside the space. 

Pinning and unpinning a space
You can add your space to the favorites list to access it easily from the left navigation panel. To favorite a space, follow these steps:
Open your Space.
Click the Pin to navigation button () beside the space name at the top. 
If you want to remove the space from the left navigation panel, click the Unpin from navigation button (

).

Space chat
Within the Chat tab, you can access groups that have been upgraded to spaces as well as newly created spaces. You can start chatting with other space members and use space chat in the same way that you would use a group chat. All chat messages will be synchronized with the space.
Accessing files
You can access all files added to your space chat from a single location. When you click the Files tab inside Space, you can view the media, docs, and links available in the space chat.

Creating forum topics
You can create a topic in a forum to carry out detailed discussions with other members of the space. Topic is a great way to engage in discussions with other members and determine the best solution for the topic.
To create a topic inside a forum, click the Create a topic button. By accessing the More options button (

), you can Edit a topic, copy a topic link and send it to anyone in your chat, Turn off notifications if you do not want to receive notifications regarding a topic, mark a topic as closed or solved, or even delete it altogether.
You can Upvote (

) or Downvote (

) a forum topic and its replies. You can also search for forum topics by entering its name. By clicking the Bookmark this topic button (

), you can bookmark a topic in the forum. You can view all your bookmarked topics in My bookmarks (

).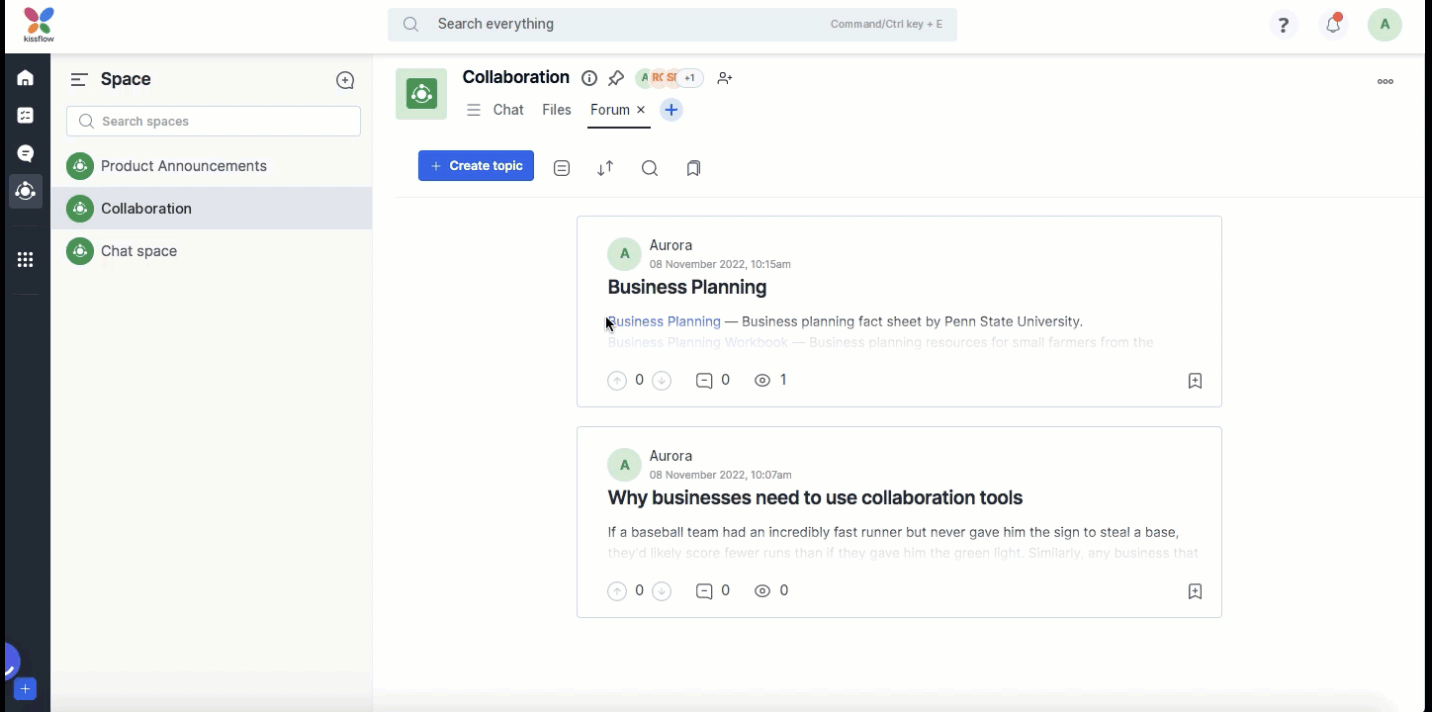 Use the forum's Preview pane button (

) to view the topic in Vertical split. To go back to normal reading mode, click No split (

). You can click the Sort by button (

) to view the recent and most upvoted forum topics. You can also pin a topic in the forum by clicking Pin this topic (

) button. To unpin a topic, click Unpin this topic (

).
Replies to a forum topic
If you see a reply that you feel is the best solution among all the replies of a topic, you can mark that reply as the Best solution. 
To mark a reply as the Best solution, 
Go to Replies of a forum topic. 
Click the More options button ()  beside the Reply button.
Click Accept as the Best solution. 
You can deselect the best solution by clicking Deselect the best solution. You can also copy reply link to share with other members.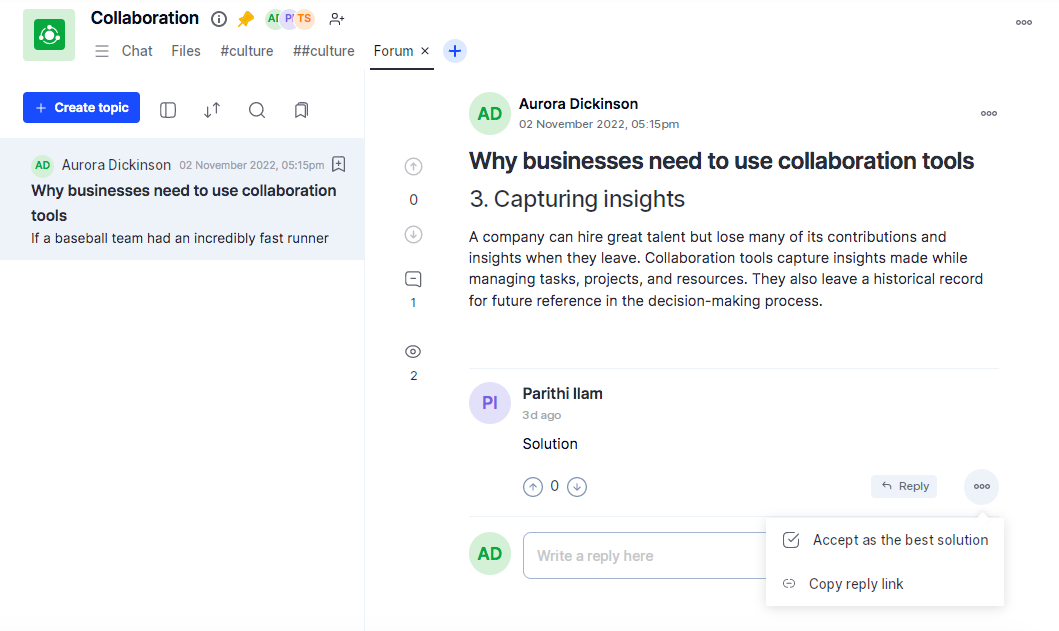 Using streams
Streams allow you to categorize your space chat messages under different hashtags. It lets you add a stream to your space and easily access all the same hashtags' messages. For instance, if you create a #culture stream tab, any space chat messages, including #culture will appear under the #culture stream.
To create a stream, 
Click Add button () inside the space tab.
Select Stream from the dropdown. 
Add a stream name and click Add new. The new stream will be added as a tab inside the space.