Managing members and permissions of projects
When you create a project, you become the project admin and have the ability to change many settings.
As an admin of your project, you can add or remove members from it.
To manage admins and members in your project,
Click Members on the left navigation bar. Alternatively, you can also click the Invite button () on the top left corner of the page.
On the Manage project members page, click + Add members to select and add members and associate them a specific project role. You can also invite members from outside your organization account directly by entering their email address. You can assign Admin or Member role to them. The new user will be added in the project; but in an inactive status.

To remove members from a project, select a member in the Manage project members screen, click the More options button  () on the member card >  Remove. The user will not be able to access or view the contents of the project thereafter.
You can also change the roles of members after they are added. For example, if you want to change the role of a member from Admin to Member, click the More options button  () next to a member, then click Make a member.
Roles and permissions
You can assign roles to members to control what actions they can perform in your project.
There are two roles that you can assign to members:
Admin - project admins can create and edit the project and tasks as well as manage all the settings for your project.
Member - project members can create new tasks as well as update existing ones.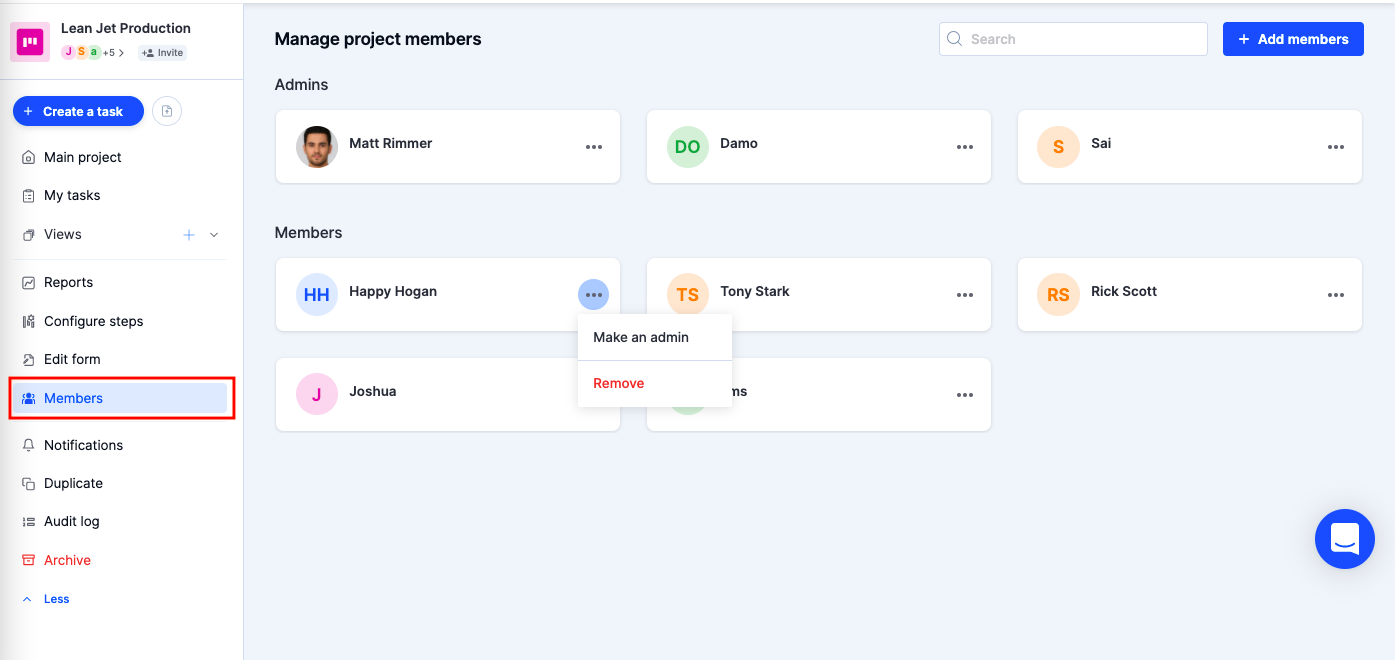 Admins have more permissions than a member and can control various settings of a project. 
Here is a detailed overview of permissions for these two roles:
| | | |
| --- | --- | --- |
| Permissions | Admin | Member |
| Manage project settings | ✓ | X |
| Add or remove members | ✓ | X |
| Configure steps | ✓ | X |
| Edit form | ✓ | X |
| Create, edit, and delete tasks | ✓ | ✓ |
| Create, edit, and delete views | ✓ | X |
| Perform bulk actions | ✓ | X |
| Manage notifications | ✓ | ✓ |
| View audit log | ✓ | X |
| Archive and delete projects | ✓ | X |
| Duplicate a project | ✓ | X |
| Add, edit, and delete notes | ✓ | ✓ |
| View task activity | ✓ | ✓ |