Reports overview
Process reports help you track and analyze how your process is functioning. 
Access your reports by clicking the Reports button in the upper-right corner of the process page. Reports are available by default to all Flow Admins. Other members of the flow can also access them if individual reports are shared with them, or if they have permission to create new reports.
Viewing reports
Use the Search box to quickly find any report by name. You can use the Sort button to rearrange your reports based on their last modified time, name, or created date.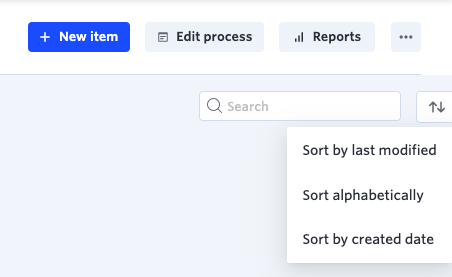 Creating a new report
To create a new report, click +Create new report. Choose the type of report, provide a name for the report, and click Create. 
Types of reports
Tabular reports display information in columns and rows. 
Charts display data graphically in one of ten chart types including area, bar, doughnut, line, pie, and bubble chart. 
Pivot tables can be used to quickly summarize large quantities of data. You can convert columns into rows and rows into columns.
The All Items report
The first time you open the Reports page, you'll see an auto-generated report called <Process_name> All Items. This is a tabular report that shows every item in your process. It cannot be deleted or renamed, but you can configure it.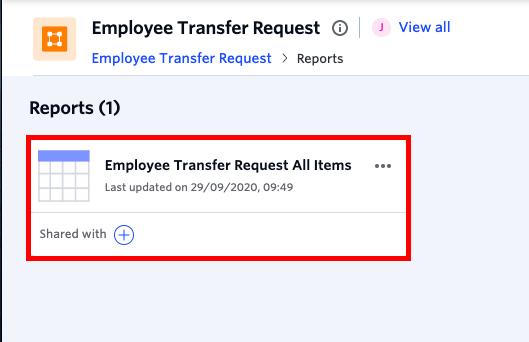 Administering a report
If you created a report, you have several ways to administer it. Most of these options are available by clicking the More options

button on the report. 
Share - Click the plus icon to share the report with others. You have the option to let users share the report with more people. You can also click the More options button and then click Share
Export - Export all the data in the report as a CSV, JSON, or ZIP file. Exporting is only available for tabular reports and the All Items. The report is sent to you as an email attachment.

You can export your report to a CSV, JSON, or a ZIP file for your process forms with a maximum of one table in their form data. 

There are a couple of hacks that we thought you must know while exporting reports:

If the ZIP option is disabled, it means your report doesn't have any tables in the process form so you will not be able to export the report as a ZIP file.
If all the options are disabled, it means your report has more than one table in the process form so you will not be able to export the report at all. We currently do not support file export for form data with many tables.
If the CSV option is disabled for your old reports, you can just open and close the report once so that its last modified time is updated to your current date after which you can try exporting it again.

Edit - Change the data, arrangement, and filters applied to your report. 
Rename - Change the name of the report. 
Duplicate - Create a new report with the same structure. The new report will be called <report name> Copy until you rename it. 
Delete - Delete the report entirely.
---
---