Customizing the case form
Form editor
Every case in a case system begins with a form. A form is where you can record all the data for a case. You can customise a case form to contain the fields required to capture information that may be relevant to your case system.
To customize a case form, click the More options button (
) > Edit form on your case system page.
The following fields are system fields and cannot be modified or deleted.
Field

Description

Assignee

The person to whom a case is assigned to. You can only assign cases to users who are members of the case system.

Priority

This field indicates the urgency to resolve a case. You can set the priority to either Low, Medium, High, or Critical. When you create a new case, the priority is set to Low by default. 

Note: You can control the visibility of this field and its function by turning on/off priority on the

Settings

page.

Due by

The date and time by when a case must be resolved.

Requester

The person who has requested or reported a case. This is not necessarily the person who has created a case in the system. For instance, a case can be requested by a user who is not a member of the case system. However, it can only be created in the system by a member.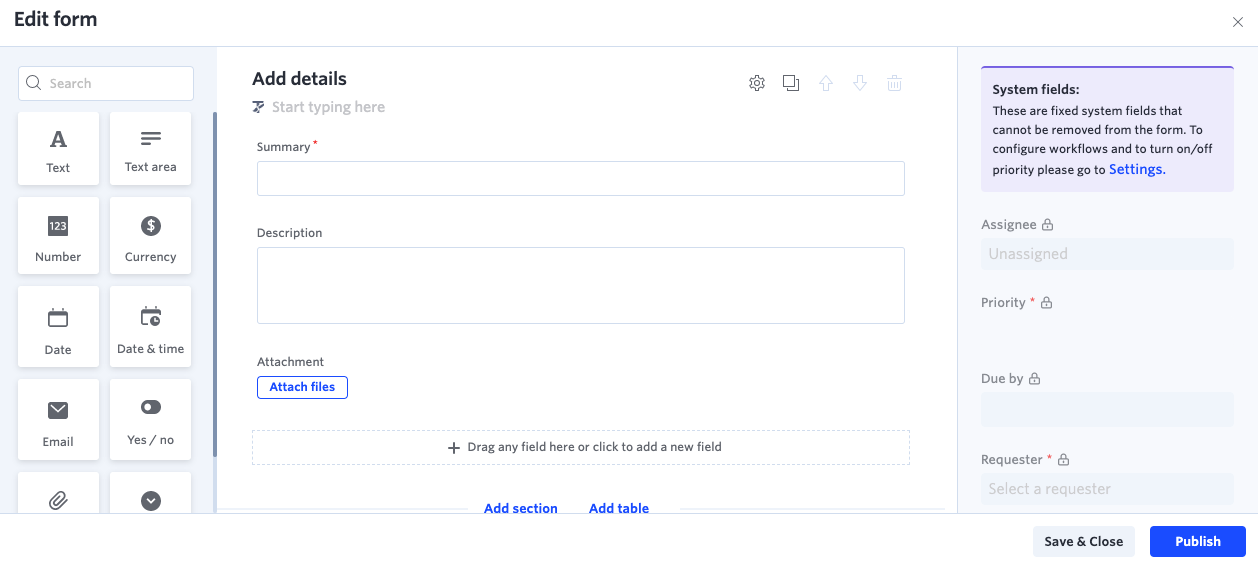 Apart from these default system fields, you can add as many custom fields you want, to a form by dragging and dropping them. You can also click on the place in the form where you want to add a field and a new one will pop up.
The form will look exactly like how you create it here to a user. To rearrange fields, drag and drop them where you want them to go. You can move individual fields, or an entire row of fields. Fields can be resized to any dimension you need. Drag to resize the width of the field.
You can change the name of a field, make it required, or add a default value. You can also create rules for validation, visibility, and appearance of the field.
Once the form is updated, click Publish.
---
---