Managing members and roles
Roles and permissions
You can assign roles to members in your case system to control what actions they perform.
There are three roles that you can assign:
Admin - can create and edit all cases, as well as manage all the settings for a case system.
Member - can create new cases as well as access and update all the existing ones.
Initiator - can only create new cases and update the ones that are either created or requested by them.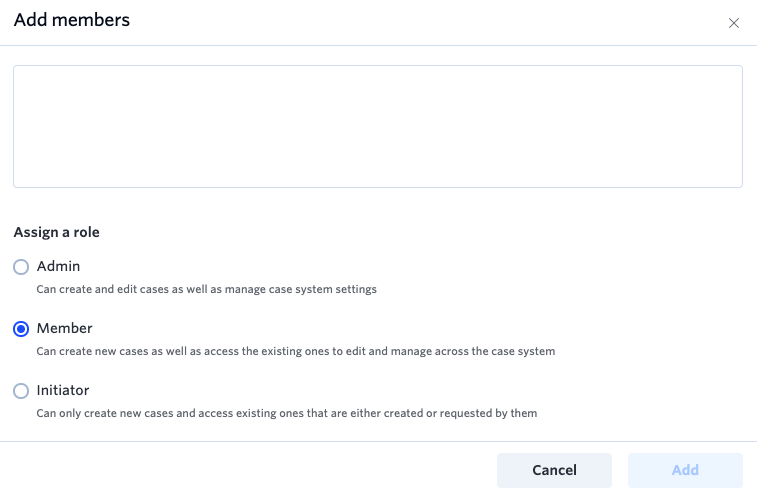 How do you decide what role to choose?
The initiator role has the least number of permissions. You cannot assign cases to initiators. Typically, you would want to use this role in scenarios where users can only report cases and collaborate only on the ones they have reported. For example, in a bug tracking system, you can assign this role to users from a customer facing team so that they can only log issues based on feedback from customers.
Members are more active collaborators in a case system and have more permissions. They create new cases and collaborate in a case system on a regular basis. They can also access all cases in a case system. This is a role that would cater to the most common use cases.
Admins have all the permissions mentioned for the above roles and can also control various other settings of a case system. They can change the roles of other members as well as add or remove them from a case system.
To add new members and assign roles, click the More options button() > Share on your case system page. On the Share settings page, click Add members to add new members.
To remove an existing member, click the More options button() > Remove on the Share settings page. The person will no longer be able to access or view the contents of the case system.
To change the role of an existing member, for instance from an Admin to a Member, click the More options button () next to a member name, and then click Make a member.
If you change the role from Member or Admin to Initiator the member may lose access to cases currently assigned to them. Initiators can only access cases they have either created or requested. The only exception to this rule is when the individual is an admin in another group. In this instance, the member will retain the role and will still be able to access assigned cases.
Here's a detailed list of permissions for all three roles:
| | | | |
| --- | --- | --- | --- |
| Permissions | Admin | Member | Initiator |
| Update case system settings | Y | - | - |
| Add or remove members | Y | - | - |
| Create, update, and delete cases | Y | Y | Can create, access is limited to cases they have created or requested |
| Create, rename, and delete filters | Y | Y | Y |
| Perform bulk actions | Y | Y (Cannot bulk-delete) | - |
| Manage notifications | Y | Y | Y |
| View audit log | Y | - | - |
| Archive and delete case systems | Y | - | - |
| Duplicate a case system | Y | - | - |
| Add, edit, and delete notes | Y | Y | Y |
| View transitions and activity | Y | Y | Y |
| Generate custom reports | Y | Only the reports that are shared with them | Only the reports that are shared with them |
---
---