Archiving and deleting a case system
Archiving and deleting a case system
You can archive and delete a case system when you don't need it anymore. A case system can only be deleted after it is archived. When you archive, all the contents will no longer be viewable and no one can add new cases to it. 
To archive a case system, click the More options button(
) > Archive on your case system page.
However, if you are an admin of the case system, you can access the audit log for case systems as well as unarchive or delete them.
To unarchive a case system, click Explore all on the top navigation bar to open the Explorer. Search for the name of the case system or select Archived flows. 
When the archived case system is shown, click the case system and then click Unarchive.
To permanently delete the case system and all its data, click Delete.
Duplicating a case system
If you want to create a case system that is identical to an existing one, you can duplicate it. Duplicated case systems will have the same settings and configurations from the original one. However, cases from the original system are not duplicated.
On your case system page, click the More options button() > Duplicate.
Enter a name for the duplicate case system in the New name field. The default name of the new case system is Copy of <original case name>.
Enter a new ID prefix for generating case IDs.
Click Duplicate.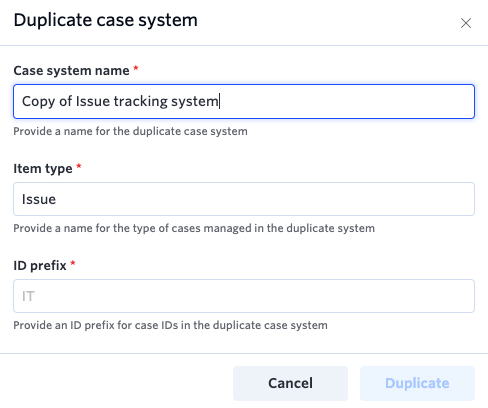 ---
---